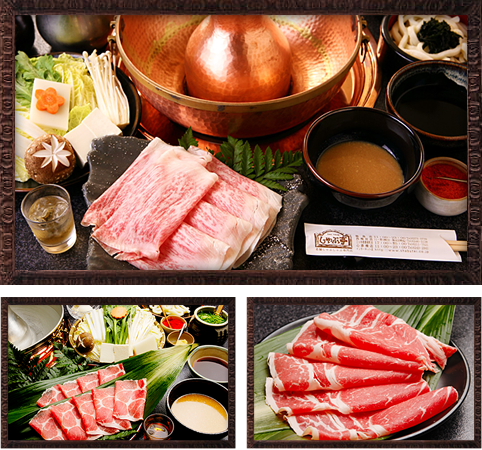 Beef Shabu-Shabu Course

¥2,180 (taxes ¥2,398)

Pork Shabu-Shabu Course

¥1,599 (taxes ¥1,758)

Beef and Pork
Shabu-Shabu Course

¥1,948 (taxes ¥2,142)

Japanese Black Cattle Beef
Shabu-Shabu Course

¥2,980 (taxes ¥3,278)

Pork Shabu-Shabu Course

¥2,180 (taxes ¥2,398)

Japanese Black Cattle Beef
Shabu-Shabu Course

¥3,880 (taxes ¥4,268)

Large portion of Beef
Shabu-Shabu Course

¥3,599 (taxes ¥3,958)

Large portion of Pork
Shabu-Shabu Course

¥2,480 (taxes ¥2,728)

Large portion of Beef
and Pork
Shabu-Shabu Course

¥3,089 (taxes ¥3,397)

Kobe Beef
Shabu-Shabu Course

¥8,980 (taxes ¥9,878)
Course Discription :Aperitif・Assorted Vegetable・Mochi (Japanese rice cake)・Tofu・Wakame (Seaweed)・Udon (Wheat-flour noodle)・dessert


Beef Sirloin Supreme

¥1,480 (taxes ¥1,628)

Mixed Beef and Pork
Sirloin Supreme

¥1,250 (taxes ¥1,375)

Pork Sirloin Supreme

¥899 (taxes ¥988)

Special Choice of
Japanese Black Cattle Beef

¥2,280 (taxes ¥2,508)

High Selection of
Japanese Black Cattle Beef

¥3,180 (taxes ¥3,498)

Special Choice
of Pork Sirloin

¥1,480 (taxes ¥1,628)

Udon - wheat-flour noodle

¥220 (taxes ¥242)

Boiled Rice

¥200 (taxes ¥220)

Tofu

¥220 (taxes ¥242)

Mochi - Japanese rice cake

¥220 (taxes ¥242)

Wakame - seaweed

¥320 (taxes ¥352)

Kikuna
garland chrysanthemum

¥320 (taxes ¥352)

Enokitake
flammulina veluptipes

¥320 (taxes ¥352)

Shitake mushroom

¥320 (taxes ¥352)

Hakusai - Chinese leaves

¥380 (taxes ¥418)

Assorted vegetable

¥580 (taxes ¥638)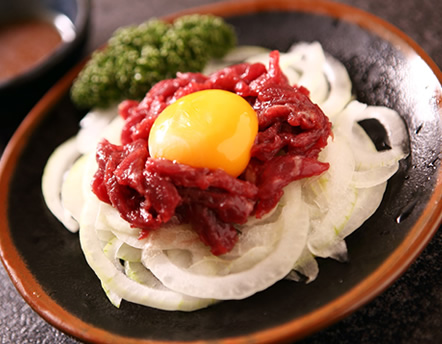 Horsemeat Sashimi
from Kumamoto

¥1,280 (taxes ¥1,408)

Morokyu
Japanese cucumber served

¥420 (taxes ¥462)

Salami Sausage

¥420 (taxes ¥462)

Itawasa
slices of steamed white
fish paste served with horseradish
and soy sauce

¥420 (taxes ¥462)

Spicy Salted Cucumber

¥420 (taxes ¥462)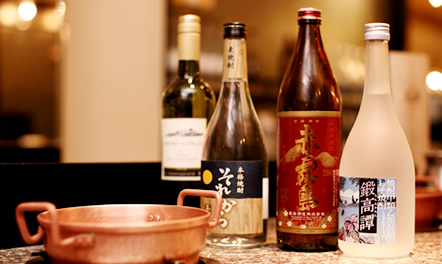 Plum wine

¥420 (taxes ¥462)

Draft beer

¥538 (taxes ¥591)

Bottle beer

¥538 (taxes ¥591)

Oozeki
(small bottle - 180.39 ml)

¥420 (taxes ¥462)

junmai daiginjo DASSAI
(small bottle - 180ml)

¥1,080 (taxes ¥1,188)

Chu high(variety flavor)

¥420 (taxes ¥462)

"Osumi" shochu
(made from potato and barley)

¥420 (taxes ¥462)

"Osumi" shochu in bottle
(made from potato and barley)

¥2,100 (taxes ¥2,310)

Glass wine (Red / White)

¥420 (taxes ¥462)

Wine in bottle all sorts

¥1,097~¥3,850 (taxes)

Woolong Tea

¥280 (taxes ¥308)

Cola

¥280 (taxes ¥308)

Juice

¥280 (taxes ¥308)
Various bottled drinks are also available for customers to keep it at the restaurant.
Please feel free to ask our staff.

Almond Flavor Milk Ice Cream

¥380 (taxes ¥418)
Only at the Shinsaibashi Location and Mitterasuji Location
Ice Cream with Organic Azuki Beans
& Ricr Flour Dumplings

¥480 (taxes ¥528)

Shabu-Shabu All-you-can-eat
All-you-can-drink
Shabu-Shabu All-you-can-drink menu:
Draft beer (medium/small), all types of Chu-High on the drink menu, Oozeki, Glass wine (red/white), Mugi shochu (Sweet potato shochu is only available by advance reservation), Plum wine with ice or soda water, and all types of soft drinks on the menu. ※ Shochu and plum wine soda are not available at the Nishiumeda and Shinsaibashi branches.
※This service is not offered at Hankyu Kappa Yoko-cho and Mittera-suji branches.


Sesame dipping sauce (large) 350ml

¥830 (taxes ¥896)

Sesame dipping sauce (small) 250ml

¥630 (taxes ¥680)
※ Both Beef Shabu-Shabu and Pork Shabu-Shabu include sesame dipping sauce and condiment.
※ The other dishes on the menu can be made available for take-out, so please ask the staff.